RIP Spokane Rose Society
Well, after many years the SRS has come to an end. People have moved on and, with the help of the Pandemic lockdowns and Zoom and such, well. It will be missed.
I will keep this site up for a time and might start a different rose site. We shall see. Until then…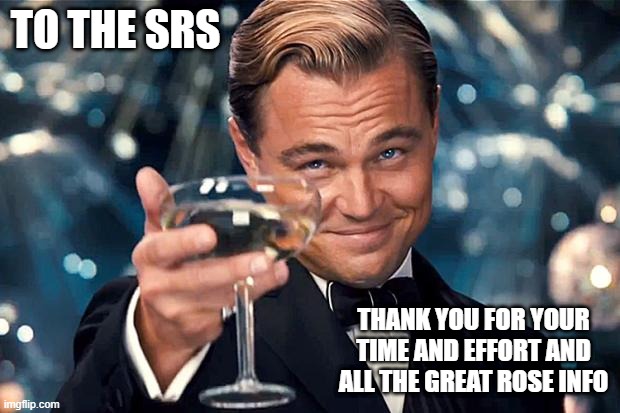 Please note that everything below this line is just here for legacy's sake. 
Welcome to the Spokane Rose Society
"There is simply the rose; it is perfect in every moment of its existence."
– Ralph Waldo Emerson
Membership in the Spokane Rose Society is open to everyone. We meet February through November, with a special program each month. (There are no meetings in December or January.)
Some meetings are replaced with special events, and workshops or classes on a range topics may be held at various times throughout the year. We have an annual Rose Show, free and open to the public, which is an excellent opportunity to see the wide variety of beautiful roses that grow in the Spokane area.
Our regular meetings are held on the fourth Wednesday of each month at 6:00 p.m. in the Manito Meeting Room (near by the conservatory) in Manito Park, Spokane, Washington. Our meetings are open to the public, as are some of our other events. Guests and Visitors are always welcome.
Note: With the CoViD-19 situation our meetings and events are on hold until further notice. When that changes we will update this page and post that info on our FaceBook page.
The objectives of the Spokane Rose Society are:
To educate the public that roses are easy to grow in the Inland Northwest,
To provide free basic rose care information and share the knowledge and experience of our Consulting Rosarians,
To invite neighbors to come together to discuss roses, gardening, and companion plants,
To promote and contribute to Rose Hill at Manito Park in the City of Spokane, and
To provide activities that benefit our community.
SRS History – The Spokane Rose Society was founded on May 1947 when the Rose Hill demonstration Garden was installed at Manito Park. Click here for more.
Links to more
See our blog for news, events, articles on rose care, rose arranging, rose shows, photographs, videos, and more rose-related information.
We also have a Facebook page
SRS Bylaws – note that this is a PDF document.
Rose Show – This is our annual rose show, highlighting the roses from local gardeners.  Bring yours, you might be pleasantly surprised at how well they do. The rules for the show can be found here.
Events Calendar – Our annual calendar of events.
How to Grow Roses in Spokane (Zone 5) – If you are new to the Spokane area or just new to rose gardening you may find this page to be useful. It contains lots of free information on how to get started growing roses in our area.
All proceeds from any ads on this site go to support the SRS and its activities.